This volume contains information on upcoming local climate events, #DayAgainstDenial, New York's Pilgrim Pipeline, Rochester's Climate Action Plan, Earth Day 2017 and People's Climate March in Washington DC.
Inaugurating Hope
When: Friday, Jan. 20 from 7-9pm
Where: First Unitarian Church–220 WInton Rd. South, Rochester, 14610
Offered by: Rochester Pachamama Alliance
Co-sponsored by:  RPCC and many others
For anyone who is looking to create positive change in the world amidst the changing political tide, this event is for you. This is an event designed to empower and inspire those who want to create a more just and compassionate world.
This event is free, but please register here. The Pachamama Alliance would like to know how many people to expect. Please arrive at 6:30 for check-in. This is a two hour event, but we will have time for music and dancing for anyone who wishes to stay longer.
Climate Action at the Local, State, and Federal Levels
When: Wednesday, Jan. 25 from 6:30-8:30pm
Where: Brighton Memorial Library–2300 Elmwood Ave, 14618
Offered by: Color Brighton Green
Come hear RPCC leaders share info about three important efforts to increase renewable energy and create a more just society at the same time.There will be a discussion on Community Choice Aggregation, the New York State Climate and Community Protection Act, and the Citizen's Climate Lobby proposal for carbon fee and dividend.
#DayAgainstDenial: Call Your Senator Today!
On Jan. 9, RPCC and some of our members (Mothers Out Front and RochesterEnvironment.com) participated in the national #DayAgainstDenial, calling on our Senators to stand up against the climate deniers being appointed to key Federal cabinet positions.
It's NOT TOO LATE to ask our Senators to take action to prevent the appointments of the climate change deniers listed below who support or have a vested interest the fossil fuel industry.  Each would be a serious barrier to progress on climate change:
Rex Tillerson, CEO of Exxon, for Secretary of State
Scott Pruitt for EPA Administrator
Ex-Gov. Rick Perry for Secretary of Energy
Rep. Ryan Zinke for Department of Interior
Please call today:
Senator Chuck Schumer: (585) 263-5866
Senator Kirsten Gillibrand: (585) 263-6250
A Call to Action: Stop the Pilgrim Pipeline!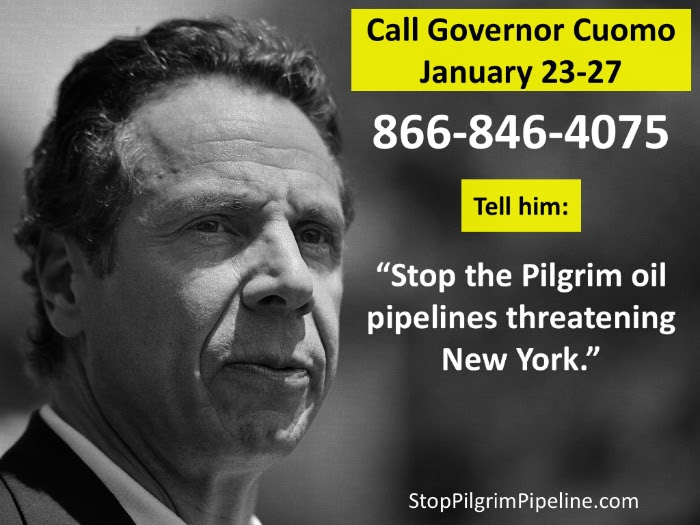 What:  Call Governor Cuomo and urge him to deny the Pilgrim Pipeline's Thruway Right-of-Way permit.
When:  January 23-27
Call-in number:  (866) 846-4075
Sponsored by: Food and Water Watch and Coalition to Stop the Pilgrim Pipelines (CAPP)
CAPP's shareable Facebook page: https://www.facebook.com/events/468315699958814/The Pilgrim Pipelines would carry explosive fracked oil along the New York State Thruway and through six counties, from Albany to New Jersey, and return flammable refined products north.
If constructed, the two pipelines would threaten our drinking water, risk the safety of dozens of communities, and promote fracking and climate change chaos.
Fortunately, Governor Cuomo has the authority to stop this dangerous project by denying Pilgrim's Thruway Right-of-Way permit.
City of Rochester's Climate Action Plan (CAP):
Opportunity for Feedback and Comments
Thank you to our many members who attended the Open House on November 9!  We are told that the City and their consultants were very impressed by the turnout and interest in the CAP.  Let's continue to show the City that there is strong support for climate action in our community!

To view the City of Rochester's Climate Action Plan, visit the City's CAP website and download the plan.  In the "What's Next?" section, look for "To review the draft community-wide Climate Action Plan, click here".  From that website, you can also view the posters that were displayed during the Open House.

Comments can still be submitted to Anne Spaulding, Director of the Office of Energy and Sustainability:  [email protected]cityofrochester.gov. Let her know you learned of the CAP from RPCC!
Earth Day is Saturday, April 22, 2017— right around the corner!  We're planning a massive and massively fun parade in downtown Rochester, seeking to engage 1000+ participants.

What does it take to participate?  ANY climate change action, large or small!  Between now and April 22, you, your organization, and your family are encouraged to do SOMETHING to reduce emissions.  From switching to LED lightbulbs, to planting a tree, to having that difficult climate change conversation with weird Uncle Harold, to leasing an electric car, to having your organization join RPCC…. each one counts!

Then join our parade on Earth Day and share your participation with our entire community.  Stay tuned for more info.  For now, decide on what you'll do to be a climate change warrior, and get rolling!
SAVE THE DATE:  SATURDAY, APRIL 29.
On April 29, there will be an enormous Climate Change March in Washington, DC, sponsored by People's Climate Movement.  Stay tuned for info on buses from Rochester.  It was the 2014 People's Climate March that formed RPCC.  Join us for this momentous occasion!
Rochester People's Climate Coalition addresses the urgent need to reduce greenhouse gas emissions and prepare for the impacts of global warming. Together, we will create a more environmentally just and sustainable society for all.